Download Audio Version
Auto and gas credit cards offer bonus points toward free gas, parts, car maintenance, and more. These products help frequent travelers to save money on travel-related expenses. Experts consider them a wise refueling option now that gas prices are on the rise.
Perks for customers
Issuers feature rebates on gas purchases at particular stations, for example, Petro Canada, Esso, or Shell. The rebate varies and can be as high as 15 percent per gallon. Holders buy oil and fuel on credit and get gas rewards. With the right product, they can save between $5 and $12 each time they fill up. Rebates can be redeemed at participating stations. Some issuers offer additional benefits to new members. Holders earn extra points with each purchase within a certain period of time (e.g. 60 days).
Auto cards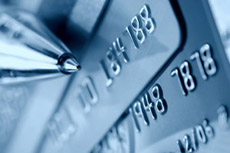 Automotive or auto credit cards are offered by different car manufacturers. GM, for example, offers a program that features bonus points on all purchases. Manufacturers offer generous discounts and bonuses, no annual fees, and no limits. There are some restrictions and limitations, however. With many issuers, customers can redeem their points for new vehicles only. On the positive side, there are many added perks such as free concierge service, coupons, and insurance policies. With other issuers, points can be redeemed for different goods and services. You can redeem your points for accessories, parts, services, and new vehicles. BMW, for example, offers rewards points that are redeemable for $100 loan or lease coupons. Points can be redeemed for service expenses, lease-mile extensions, accessories, and more. In general, this product is a good choice for customers who are fans of a particular car brand. There are redemption caps (e.g. $3,000) on accumulated dollars, and some issuers offer high annual fees in the range of $80 - $100.
Consumer gas cards
There are two types of products to choose from, business and personal gas cards. Canadian consumers are offered different cards with attractive terms, including the BMO CashBack MasterCard and Esso Visa. Individual customers can apply for a consumer credit card with Petro Canada, Shell, ARCO, or another company. They can redeem points at stations or convenience stores. In addition, points can be redeemed in the form of statement credit. There are other benefits to using this product, and one is that customers get free roadside assistance for a period of one year. Some issuers also offer cash advances and feature no annual fee. Interest charges vary from 18 to 21 percent. Carrying a balance is costly, especially for customers who have a transportation budget. It is recommended to pay the balance in full.
One option is to apply for a prepaid card and buy fuel at the local gas station. This is a flexible payment solution in that customers can activate, charge purchases, and even sell cards to local companies. Holders can request to have it reconfigured to any value. Customers can also choose to reconfigure it as a family card so that other members can charge purchases. There is even an option to donate money to one or more charities, local churches, schools, hospitals, and other establishments. There are loyalty rewards in addition to gas rebates and discounts.
Some issuers offer membership-based programs. The annual fee varies, but you can find a product with a fee of about $30 a year. You will benefit even more if the local gas station features lower prices than what you have pre-paid. One problem, however, is that borrowers can get fuel at participating stations only.
Products for business owners
Companies that use business gas cards save money on business-related travel expenses. This is a great tool for business owners who want to control transactions. A vehicle or driver code is required to authorize transactions. Alternatively, users should enter their personal identification number to authorize transactions. Cards of former employees as well as stolen and lost ones can be deactivated online. The fleet manager can create a profile for each employee based on their gas usage. There are many benefits for employers, and one is that they can set spending and payment limits per month or week. Another option is to set a limit on the number of transactions made by employees. Spending can be limited to "fuel only" to stop employees from shopping at convenience stores, shopping malls, and online stores. Business owners may restrict payments during holidays, weekends, nights, and off hours in general.
Additional benefits
Fleet managers have access to their online account which allows them to view transactions, increase or decrease spending and transaction limits, request additional cards, and deactivate lost or stoles ones. They have access to convenient tools and reports, including group summary reports, management reports, and customer statements. Transaction management reports include exception codes, transaction times and dates, total amount billed, and locations. In addition to these benefits, business owners can monitor daily and weekly dollar amounts and after-hour transactions. They can sort online reports and transactions by MPG readings, type of vehicle, and employee. Some issuers charge a membership fee for charging less than a certain number of gallons per month. Others feature cards with no monthly management fee. Owners who opt to receive online statements benefit from reduced monthly fees.
Gift certificates and cards
In addition to these products, customers can get a gift card that can be used at convenience stores and gas stations. They never expire and there are no hidden or dormancy fees. Customers can pay for car washes, food, fuel, and other goods and services.
Applying for an auto card
The eligibility criteria vary from issuer to issuer. Generally, applicants are asked to confirm that their credit history is clear of problems such as delinquent accounts and bankruptcies. They should fill in their personal and financial details, including residential address, employer, and source of income. This includes separate maintenance, child support, and alimony. Applicants are also asked about their gross annual income and whether their application has been denied during the last 6 months. Note that issuers usually require an excellent credit rating.
Other ways to save
Apart from using a credit card, consumers can shop online, use public transport, and drive a smaller vehicle. Sharing school rides with friends, relatives, and neighbors is another way to save on gas. Finally, slowing down makes the car use less gas and so does driving with a light trunk.
Top 5 Auto and Gas Rewards credit cards
Scotia Momentum® VISA Infinite Card
With an annual fee waiver during the first year, this card also features a promo rate of 1.99 percent and incentives such as cash rebates, exclusive offers, shopping convenience, concierge service, and a lot more. Consumers are offered 1 percent back on qualifying purchases, 2 percent on recurring payments and purchases at drug stores, and full 4 percent on groceries and gas. Travel emergency medical coverage is also available.
Interest rate: 19.99 percent
Credit limit: min $5,000
Interest-free period: 21 days or longer
Annual fee: $99
BMO® CashBack World MasterCard®
This card by BMO is an attractive cashback offer with beneficial features such as concierge service, car rental discounts, roadside assistance, and more. The complimentary roadside assistance program covers services such as towing and lockout, flat tire change, and battery boosts. Holders get 1.25 percent back in cash rebates which apply to all eligible purchases. Travel benefits such as unexpected return home, rental collision damage, and travel insurance are also offered.
Interest rate: 19.99 percent
Annual fee: $79
Minimum income requirement: $60,000
Grace period: 21 days
Scotia Momentum® VISA Card
Scotia Momentum goes with a special intro rate of 1.99 percent on transfers and cash advances and features such as credit card checks, 1 to 2 percent cash back, and car rental discounts. Standard add-ons such as purchase security are also available. Supplementary cards are offered as well. The introductory period lasts 6 months, and holders are free to transfer outstanding balances. Cash rebates of 2 percent apply to drug store purchases as well as groceries and gas.
Interest rate: 19.99 percent
Minimum limit: $500
Grace period: 21 days
Annual fee: $39
The American Express® AIR MILES®* Platinum Credit Card
Featuring free supplementary cards, this offer by AMEX also goes with rewards points and a complimentary bonus of $2,000 air miles. Holders earn 1 bonus point for each $10 spent at drug stores and select retailers and on groceries and gas. There are plenty of rewards to choose from, including travel options, electronics, movie tickets, etc. Reserved ticket access and travel accident insurance are further benefits.
Referral bonus: 500 points
Purchase rate: 19.99 percent
Annual fee: $65
Fee waiver during the first year
Canadian Tire Gas Advantage MasterCard®
Canadian Tire Gas offers a MasterCard for major gas savings and shopping convenience. Approved cardholders enjoy savings of up to 10 cents per litre and benefits such as free additional cards and cash advances. They are free to choose from different bill payment methods – by mail, at the bank, and at Canadian Tire stores. Only customers who are retired or currently employed qualify.
Interest rate: 19.99 percent
No annual fee
Grace period: 21 days