Download Audio Version
Instant approval or instant decision credit cards are one alternative to expensive prepaid options. They are offered to customers with a good credit history. Borrowers with a poor credit history, arrears, delinquencies, late payments, and consumer proposals are unlikely candidates although banks have different lending criteria.
Features, Interest Rates, Annual Fees
Many instant decision cards feature a zero percent APR on balance transfers. The promotional period lasts from 9 months to 26 months. Some issuers also offer a 0 percent interest rate on purchases within a period of 3 to 16 months. The interest rate varies widely, from 12 to 35 percent. Some products go with rewards programs and generous rebates. Points can be used toward merchandise, including brands such as Amazon, as well as travel, gift certificates, and holidays. Many instant approval cards go with a low limit of about $300. The limit increases with regular monthly payments. Some issuers charge processing and application fees while others do not.
Applying for an Instant Approval Card
Most issuers approve applications within one business day, and some claim that decisions are made in just 60 seconds. Not everyone gets approved within 24 hours, however. In some cases, the issuer needs to verify the information submitted by the applicant. This can lead to a delay of a couple of days.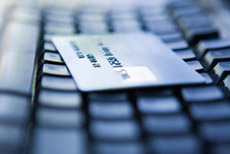 One's credit score is a major consideration, but not the only one. Financial institutions are interested in the applicant's income, employment status, and expenses (rent, mortgage, and other expenses). The issuer may ask why you need a credit card – to get rewards or cashback, use it when travelling abroad or in emergency situations, shop online, etc. In addition, you should include information such as your housing status, existing savings and transactional accounts, and additional sources of income.

While some issuers don't run a credit check, most banks require that the applicant opens a checking account or has an existing account. Applicants should fill in their account number and sort code and specify how long they have had an account. They should be of the age of majority in their province or territory. Banks are also interested in the applicant's employment status, i.e. employed, unemployed, homemaker, student, retired, or self-employed. This is an important consideration, especially for borrowers with poor or fair credit.

Note that while approval and processing takes about a day, you can expect to wait for 7 to 14 days before you receive your plastic money. Then you have to activate the card. It is best to apply online instead of by phone or postal mail. The approval process is quicker this way. In comparison, standard application methods often last up to 5 weeks. Instant approval decreases waiting times and speeds up the approval process.
Benefits for Debt-Ridden Borrowers
People with fair credit benefit from using an instant approval card. Making regular payments helps borrowers to rebuild or build credit. They usually have a limited access to borrowing options. A card of this type enables them to pay bills online, make bookings, order goods and services from online stores, and make other transactions. Some retailers and online stores, for example, accept credit cards only. Issuers offer very high interest rates, however.
In general, this product is intended for borrowers who need quick cash for emergencies (accidents, car repairs, hospital stays, emergency home repairs, and others). Bank loans usually feature better terms and interest rates, but the application process may take several weeks. Moreover, financial institutions usually offer unsecured cards to people with a very good or excellent credit.
While there are many benefits for debt-ridden borrowers, people with good credit also enjoy many perks. In addition to cashback and discounts, issuers offer online payments, statements, and account management options, along with a record of recent transactions and changes. This is a very competitive market, and many issuers advertise rewards, airmiles, and cashback products, marketing them as instant approval credit cards. Some banks are broadening their array of products, changing their eligibility criteria to offer products to customers with different credit scores.
Types of Products to Consider
Banks offer two main products – individual and business instant approval cards. Examples of Canadian products include the Capital One Guaranteed Secured MasterCard and Low Rate Guaranteed MasterCard which goes with a low interest rate of 14.9 percent.
Businesses are normally approved within one working day and benefit from immediate acceptance, security, and convenience. It is usually start-up companies and businesses with good credit that apply. Established firms with an excellent payment and credit history opt for products with low interest rates or attractive rewards programs. Nevertheless, an instant approval card helps companies to pay vendors and suppliers and manage their finances. They can meet their overhead, travel, and operating costs in times of cash flow and financial problems. Some vendors and retailers also offer business credit cards. They feature discounts on computers, business equipment, office supplies, and more. Businesses can charge large purchases such as machinery and major equipment.
Retailers often offer instant approval cards to provide incentives and attract customers. However, it is wiser to make purchases on a single card rather than multiple ones. This can influence your credit score negatively.
Loans, Cash Advances, and Other Alternatives
Applicants who were turned down by another issuer are less likely to be approved. Some banks approve only clients with excellent and good credit. Borrowers may have to look for other solutions such as prepaid and secured cards, payday loans, cash advances, and a loan from family or friend.
Top 4 Instant Approval Credit Cards
No-Fee Scotiabank Value Visa Card
The Bank of Nova Scotia offers an instant approval credit card with an introductory rate of 3.99 percent valid over an initial period of 6 months. This is a good balance transfer card as well because customers pay $0 in transfer fees. In addition to discounts on car rentals, Scotiabank also features optional card coverage and convenient checks. Given the low initial rate, customers benefit from significant interest savings.
APR: 16.99 percent
No annual fee
Interest-free period: min 21 days
Credit limit: at least $500
Home Trust Secured Visa Card
Home Trust features a Visa card and advertises the fact that almost everyone gets approved. This card is suitable for customers who need to rebuild or establish credit and can be used to make offline and online purchases, make ATM withdrawals, book vacations, etc. There are 2 versions for customers to choose from, a low rate and a no annual fee card:
Annual fee: none
APR: 19.99 percent
Annual fee: $59
APR: 14.90 percent
Security deposit: $500 - $10,000
Guaranteed Secured MasterCard by Capital One
The best thing about this card is guaranteed approval, regardless of credit profile, and the opportunity to reestablish credit. Cardholders are offered the full array of MasterCard benefits, including ATM referrals, emergency cash advances and card replacement, and more. Capital One requires security funds as a payment guarantee, and you can make a deposit as low as $75. The credit limit can be $300 or higher, and the security deposit is returned on closing the account.
APR: 19.8 percent
Interest-free period: 25 or longer
Annual fee: $59
BMO Preferred Rate MasterCard
The Bank of Montreal also features a no fee instant approval MasterCard with travel rewards and everyday benefits. Again there are two options, one is to lower the interest rate, and the other to save on annual fees:
Annual fee: $20
APR: 11.90 percent
No annual fee
Standard rate: 17.50 percent
Grace period: min 21 days
There are other benefits that go with this card, including roadside assistance, medical and travel protection, trip cancellation coverage, and others.