Download Audio Version
A low interest credit card is a product that features a rate of 10 – 12 percent. Many banks and credit unions offer low interest as a way of attracting customers. Examples of great offers include the Blue Sky from American Express, which has no annual fee, and the VISA Desjardins Modulo GOLD Card.
Interest Rates Offered
Some products on the market feature substantially lower rates in the range of 6 – 7 percent. However, only customers with well-above-average and excellent credit meet the lending criteria. Credit unions offer better terms even to members with average scores. A FICO score of 600 or higher can get you an interest of 12 – 12.9 percent while a score of 680 or higher can help you to qualify for a rate of 9 – 9.9 percent. A high APR is around 20 – 22 percent, which is offered to customers with a poor score and payment history. In fact, some issuers feature rates of 30 – 36 percent.
Note that whether your credit score is good, bad, or close to greatness depends on the scale of choice. If your score is 810 and you use the VantageScore scale, then you have a middle-of-the-road score. Here grades range from 501 to 990. Your score is excellent if you use FICO which assigns grades from 300 to 850.
Features of Low Interest Credit Cards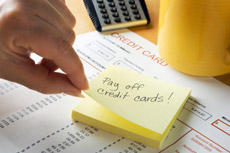 Some issuers offer fixed interest, but more and more companies feature variable-rate products. Others offer a very low or zero percent APR on balance transfers. Capital One, for example, features a card with a rate of 10.9 percent which is offered to customers with an excellent score. The main benefit is the fact that customers pay no foreign transaction and annual fees. Other issuers offer products with no penalty APR and no cash advance fees. And while the interest is an important factor, it isn't the only one. Some products feature cash back while others are offered with rewards points. You can even take advantage of the Google Wallet service which is designed for offline and online shopping. This is a good way to make fast and secure payments and is available for HTC, LG, and Galaxy phones. Customers can make payments at a wide array of retailers such as Dairy Queen, BP, and Home Depot. In addition to convenience of payment, issuers offer perks such as discounts on car rentals, merchandise, and more. Other factors to take into account include the interest-free period, annual fee, minimum limit, and whether the issuer offers free supplementary cards. Scotiabank, for example, offers a low rate credit card with a grace period of 21 days and free supplementary cards.
How to Lower the Interest
Even if a product features a high interest rate, there are some ways to lower it. What you can do right now is call your issuer and ask if they can reduce your interest rate. Mention that you are a regular payer, have an excellent score, use other products and services, and are a long-term customer. Don't make things up, however. Also mention any offers you have received from other financial institutions (preferably from big banks such as CIBC and TD Bank). If the customer service representative agrees to lower your rate, inquire about the new rate and other details. Ask when it will go into effect and whether it is a promotional offer that is valid within a specified period. You may want to contact a supervisor if you are unhappy with the offer or your request was denied. Or you can try the next day or next week. It is important to be persistent until you find the right customer service representative.
Benefits of Low Interest Rates
One obvious benefit is that borrowers save on interest charges. For example, if you carry a balance of $450 and the rate is 7.5 percent, you will pay $2.81 (450 x 0.075 = 33.75/12). However, if the rate is 23 percent, it will cost you $8.63 in monthly charges. Another advantage is that you can repay your debt within a shorter period of time. You will repay the outstanding balance in 9 months if you can afford to pay $55 a month ((450 + 36)/55 = 8.8 months). It will take you 10 months if your rate is 22 percent, and you will pay $99 in interest charges. Another benefit for borrowers is that they enjoy a lower minimum required payment. Even if you pay the minimum each month, you will still save money on interest charges. This will help you to reduce the outstanding balance.
Downsides of Low Interest Rate Offers
One downside is that issuers rarely offer perks and extravagant features along with low interest. While holders don't have access to concierge services and attractive discounts, they benefit from very low introductory interest rates. Another downside is that people with poor payment histories, low credit scores, delinquencies, and missed payments may not qualify. In general, this product is a good solution for borrowers who don't clear their balances on a monthly basis. Customers who pay their balance in full may benefit from other offers, including airmiles, rewards, and cash back products.
Finally, ask whether you are offered an introductory interest rate or a low ongoing rate. The problem with promotional rates is that they often increase to 18 – 20 percent once the introductory period is over. Your interest payments will start spiraling if you only make the minimum payment.
Top 5 Low Interest Credit Cards
Scotiabank Value® VISA* card
This Visa is a great low interest card with an introductory period of 6 months and a promo rate of just 0.99 percent. Scotiabank offers a number of benefits and add-ons such as instant cash advances, exclusive car rental discounts, major savings, and others. The card also comes with a low minimum credit limit of $500 and convenient features such as Visa Checkout for online checkout.
Grace period: 21 days or longer
Annual fee: $29
Standard interest rate: 11.99 percent
CIBC Select VISA® Card
CIBC offers a low interest VISA that allows customers to carry a balance and save on interest charges. The card features perks and benefits such as car rental discounts, travel medical and card insurance, and others. Holders who request additional cards are free to assign spending limits on cash and regular purchases. Customers qualify provided that they have a minimum annual household income of CAD $15,000.
Purchase interest rate: 13.99 percent
Annual fee: $29
Up to 3 free additional cards
Grace period: 21 days or longer
Desjardins VISA® - Modulo GOLD
With a rewards program, this VISA card is a great option to benefit from everyday purchases and turn them into gifts, travel rewards, and more. Customers earn 1 percent on purchases and are offered benefits such as mobile device and travel insurance, attractive Hertz discounts, mobile payments, cash advances, and a lot more. What is more, there are no transaction fees, and holders are free to make overdraft transfers in case certain transactions exceed the available balance.
Annual fee: $50
Interest rate: 9.9 percent
Grace period: min 21 days
RBC® VISA® Classic Low Rate Option
This card is perfect for customers who want to save on annual fees and interest charges and goes with beneficial features such as travel health insurance, balance protection insurance, talk and save program, enhanced security, and more. RBC's VISA is available to applicants with no current records of bankruptcy who are citizens or permanent residents.
Annual fee: $20
Interest rate: 11.99 percent
Penalty interest rate on cash advances and purchases: 19.99 percent
Grace period: min 21 days
No-Fee Scotiabank Value® VISA* card
Customers looking for a no fee credit card are sure to appreciate this offer – Scotiabank also offers a promotional rate of 3.99 percent over a 6-month period of signing up. There are plenty of benefits for cardholders, including credit card checks, exclusive discounts, coverage in case of critical illness, job loss, or disability, and so on. This card is also ideal for borrowers with multiple high-interest cards and can be used as a balance transfer card to save on interest charges.
Interest rate: 16.99 percent
Annual fee: $0
Interest-free period: 21 days or longer