Download Audio Version
Many people are looking for a no annual fee credit card because issuers charge fees such as late, cash advance, foreign transaction, and others. The good news is that there are different financial products that are offered at no cost. Examples are the RBC Visa Platinum, National Bank MasterCard, and TD Green Visa.
Benefits for Users
Some cards are offered with cash back, rewards points, airmiles, and discounts on goods and services. Other products feature zero or low introductory balance transfer fees to attract new customers. They combine beneficial features of other products such as promotional low APR and bonus programs. Some Discover cards, for example, charge no pay-by-phone, foreign transaction, and over-the-limit costs. Borrowers benefit from the fact that there are no late charges on the first late payment. In addition, issuers offer extended warranty, purchase protection, and travel accident policies. Other perks include: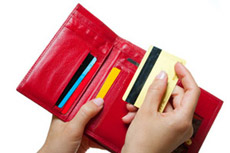 Free baggage checks
First-class upgrades
Complimentary airline lounge use
Travel miles
Discounts on car rental
Free checks
Supplementary cards
Complimentary bonus points
Cards with annual fees are a bad choice for customers who carry a balance regularly. The reason is that they pay high interest charges along with the fees. While these cards often feature rewards points and other incentives, the interest paid would wipe them out. It makes sense to pay an yearly charge if you are a frequent traveler, charge at least $10,000 a year, and pay the balance in full.
When to Apply
This product is designed for customers who make purchases frequently and pay the full balance. It is also suitable for those who use it for emergencies only. The interest rate is higher than that of other cards. The charges will offset the savings if the outstanding balance is not cleared. Borrowers who are occasional users often choose a product with no annual fee.
Types of No Fee Cards
There are variations of this product, including no annual fee during the first year, for life, and with rewards and special discounts. The latter features rewards points and discounts. Alternatively, the customer may have a linked transactional account with the same provider or bank. The fee is reduced or waived permanently or during the first year. Thus, the holder may get a card with no annual fee as an ongoing deal. Other products are offered with no charge during the introductory period, i.e. the first 12 months. Another option is no yearly charge for life, but few issuers offer such products. As long as the holder uses the card, and the account is active, the borrower doesn't pay an annual fee. It is a good idea to check whether the issuer has reserved the right to increase the interest rate or to introduce other charges after a certain period.
Features to Look For
When shopping around, it is important to inquire about features such as grace period or interest-free days, balance transfer offers, interest rate, and penalties. Balance transfer offers are very popular and a good option for borrowers with high-interest credit cards. The fact that the provider features no annual fee is an additional benefit. Interest-free days are an important factor. Most issuers offer products with a grace period of up to 55 days. Thus, no interest charges are assessed during a period of 55 days. There are cards without a grace period, but this is very rare. The interest rate is also important. While holders may save $40 – $80 yearly, those who pay the minimum only should look for a low interest rate.
Many finance companies offer products with perks such as fraud guarantee, complementary travel insurance, and online and phone banking. Online banking allows holders to check their monthly statement, outstanding balance, payments, and other transactions. Another perk is optional protection in the event of death, critical illness, lockout, strike, loss of job, and disability. This is a type of insurance policy for customers who are likely to face an extended period of unemployment or prolonged illness.
How to Get a Fee Waiver
Even if your card of choice comes with an annual fee, you may ask the issuer to waive it. Many Canadians accept the fact that they have to pay charges, penalties, and other costs. However, the annual charge can be as high as $500 which is a lot of money. It is usually credit cards with many perks that are more expensive to use. Some financial institutions offer a waiver to regular customers while others will base their decision on your spending level. Some banks offer package deals to customers who take out a home loan or use another financial product. Borrowers who opt for a package deal have qualify for a waiver. They benefit from a lower interest rate on their mortgage or home loan. Business customers are sometimes offered a fee waiver, especially if they have a bank account or business loan with the same provider. Your spending level is an important factor, but issuers have different criteria. Some banks offer a waiver if you spend around $100,000 per year while others – a minimum of $30,000. Automatic waivers are granted to big spenders. However, the easiest way to enjoy this perk is to opt for a no charge credit card.
Top 6 No Fee Credit Cards
No-Fee Scotiabank Value® VISA
With an introductory rate of just 3.99 percent, this card offers the opportunity to save on both interest charges and annual fees. Customers who choose to transfer existing high-interest balances are able to repay faster. They also benefit from card checks to pay utilities, medical bills, and insurance coverage, as well as card protection coverage, special discounts, and more.
Annual fee: none
Standard interest rate: 16.99 percent
Interest-free period: 21 days or longer
Credit limit: $500 or higher
L'earn® VISA* card
L'earn® VISA is a great specialty card that offers cash rewards at a 0.25 - 1 percent earn rate on eligible purchases. There is also a secured option designed for foreign students, new immigrants, as well as Canadians with credit problems. Cardholders benefit from added and optional features such as balance protection, instant cash advances, checks to pay medical bills, big-ticket purchases, utility bills, etc.
Annual fee: none
Interest rate: 19.99 percent
Interest-free period: 21 days or longer
Credit limit: $500 or higher
No-Fee ScotiaGold® VISA* Card
This is yet another no annual fee card with added features such as rental car collision insurance, instant cash advances, commission-free travelers checks, exclusive car rental discounts, and more. The card also comes with secure payment technology and card checks, and customers are free to apply in person or online. There is an option to request supplementary cards to enjoy further benefits. Customers also benefit from the fact that additional cards go with no annual fees.
Annual fee: $0
Interest rate: 19.99 percent
Balance transfer and cash advance rate: 21.99 percent
Credit limit: $5,000 or higher
Scotia Momentum® No-Fee VISA* Card
Scotiabank offers another no fee VISA with a special rate of 7.99 percent over a 6-month introductory period. There are other benefits for cardholders, among which 0.5 percent cash back on daily purchases and 1 percent cash back on drug store and grocery purchases, and gas. Special discounts on car rentals are also available as well as optional card protection. Cash advances and checks are offered as well.
Annual fee: none
Purchase interest rate: 19.99 percent
Credit limit: min $500
Grace period: 21 days or longer
SimplyCash™ Card from American Express®
Another great option with no annual fee, this card features a cashback program that allows customers to earn 1.25 percent back on groceries, dining, movies, and other purchases. Cardholders also benefit from a generous cashback rate of 5 percent on purchases at restaurants, grocery stores, and gas stations over the first 6 months after signing up. Additional features include travel accident and car rental theft insurance, front of the line reserved tickets, and more. A minimum income of $15,000 is required.
Annual fee: $0
Purchase interest rate: 19.75 percent
Funds advance rate: 21.99 percent
Smart Cash MasterCard® credit card
Smart Cash by MBNA is a no fee card with cashback incentives and the option to upgrade to another account – the Smart Cash World MasterCard. Customers with a minimum income of $60,000 qualify for an upgrade. MBNA offers an attractive earn rate of 5 percent on purchases at gas bars and groceries over a 6-month period of signing up and 2 percent thereafter. All other purchases earn 1 percent.
No annual fee
Interest rate: 19.99 percent