Download Audio Version
US dollar credit cards are offered to customers who make purchases in US dollars or are frequent travelers to the United States. Financial institutions such as CIBC and TD Bank offer this type of product. Customers can choose from a selection of products, including the US Dollar Visa Gold Card by RBC, CIBC U.S. Dollar Visa card, and TD U.S. Dollar Visa Card.
Using a US Dollar Card
Holders can make purchases at online stores, retail outlets, boutiques, shopping malls, and other places. Customers who live and work in the United States most of the year also find this product beneficial. It is designed for people with US dollar transactional accounts and those who shop at US retailers. This is also a good choice for those who make personal and work-related purchases, including office supplies, raw materials, etc. Some people travel to the US every week and make regular purchases.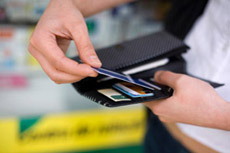 They can use the card to make hotel bookings, car rentals, and other purposes. Persons with a dual citizenship (US and Canadian) often opt for this product. It is a good choice for those who have a US citizen for a spouse, for people who have relatives living in the United States, and for students who are enrolled in US colleges. Young people who are studying in the US can use the card to pay for tuition, school supplies, meals, rent, and bills and to build their credit history. They can book flights when going back home or on vacation. People who do business or travel frequently to the US can pay for gas, services, bills, and even stocks. Companies that maintain US dollar accounts and those who earn their salary in US currency may also consider using this product. However, it is best to apply with a Canadian bank such as CIBC. Customers may be able to negotiate lower fees, charges, and exchange rates. Products offered by big banks such as the Royal Bank of Canada and National Bank of Canada go with standard features. There are only a few minor differences.
Pros and Cons of US Dollar Cards
The main reason why customers choose this product is that they don't have to pay exchange fees. There is no need for currency conversions when making purchases in the US. Foreign currency exchange fees add up quickly if you pay in Canadian dollars, especially if you make purchases frequently. This holds true for companies that pay for business-related supplies which cost a lot of money. Generally, a US dollar credit card can be a safety net against currency fluctuations. This is the case when the greenback is valued higher than the Canadian dollar. When it is the opposite, cardholders actually lose money. A US account gives holders a degree of control over currency conversions. They can choose when to covert Canadian to US dollars. This is an effective tool to lower charges for refund transactions and purchases. It is also beneficial in that holders avoid unpredictable exchange rates. What is more, the annual fees are deducted in US dollars automatically.
US dollar cards are best suited for business travelers and small business owners who want their annual fees, interest charges, and monthly payments in US currency. At the same time, some products feature high interest rates, and holders should avoid carrying an outstanding balance.
Customers enjoy a wide array of privileges, depending on the issuer. Some banks feature privileged services such as commission-free travelers checks, concierge services, and guaranteed hotel reservations. Other issuers offer insurance policies such as emergency purchases and trip interruption insurance.
Linking a US dollar card to a bank account in US currency is one option giving holders a greater degree of flexibility. This helps borrowers to avoid conversion charges when paying their bills. Obviously, currency conversion fees apply to transactions that are made in a currency different from US dollars. Customers enjoy substantial savings when making purchases in US currency. The risk associated with carrying a lot of cash while travelling is also eliminated.
Features of US Dollar Cards
The interest rate is 19.5 percent on average. Some issuers such as the CIBC offer free supplementary cards while others charge a fee of $5 to $30. In addition to added features such as roadside help and emergency cash, banks such as BMO offer an annual fee waiver to customers who charge $1,000 or more within 12 months. CIBC and RBC also offer free travelers cheques. Some issuers such as the Royal Canadian Bank feature rewards programs. Others offer products that work like prepaid and debit cards and allow customers to keep US dollars in their accounts. There are no fees or charges. On the downside, they do not go with insurance plans or warranties.
It is important to use plastic money wisely. Most banks and other issuers charge an exchange rate fee. MasterCard and Visa set exchange rates on a daily basis. Companies assess charges on refunds, purchases, and deposits that are made in different currencies.
In addition to products offered to individual borrowers, there are US dollar cards intended for businesses. The Bank of Montreal offers a business credit card that converts Canadian dollars to US currency when the exchange rate is favorable.